Proper planning is the essence of a peaceful, well-deserved and carefree retirement in surroundings where God's creation can be experienced around us all the time. At Fynbos Heights Lifestyle Village we are in the midst of such an atmosphere of excitement and safety. This project is the brainchild of the Rotary Club of Mossel Bay – a non-profit organisation with the best interests of the residents at heart.
Videos
The first residents, Monty and Sue Martin, moved in as far back as October 2014. Numbers have swollen to 186 privileged occupants. Completion of Phase 3 by 2021 will bring the project with a target of 197 units, all under property rights, to fruition.
Since the first residents moved in, various essential services have become operative. The kitchen provides lunches, laundry facilities are available, post is delivered, a sick bay with qualified staff is fully operational, and a centrally situated library offers enjoyable reading material.
A Village Manager had been appointed and more staff and workers have been added to the team. Village matters are jointly managed by Rotary members as well as owners elected at the Home Owners Association and by management structures that have been established for this purpose.
Dag-tot-Dag span van Ontwikkeling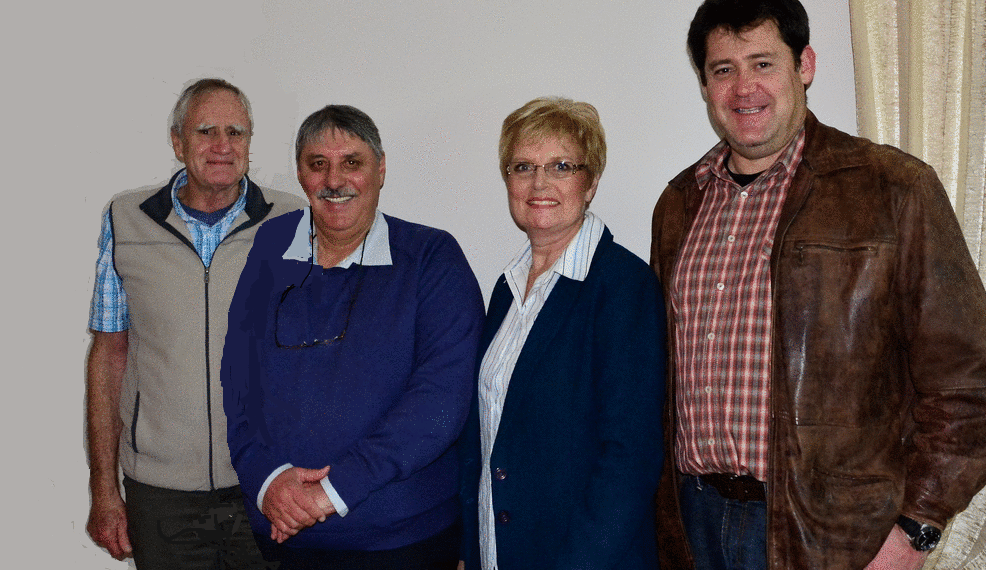 v.l.n.r: Ian Hamilton-Argitek, Andre van Greunen-Voorsitter Fynbos Hoogte Leefstyl Oord, Marinette Smith-Bemarker, De Villiers Neethling – Projekbestuurder/Bourekenaar
Trusteeraad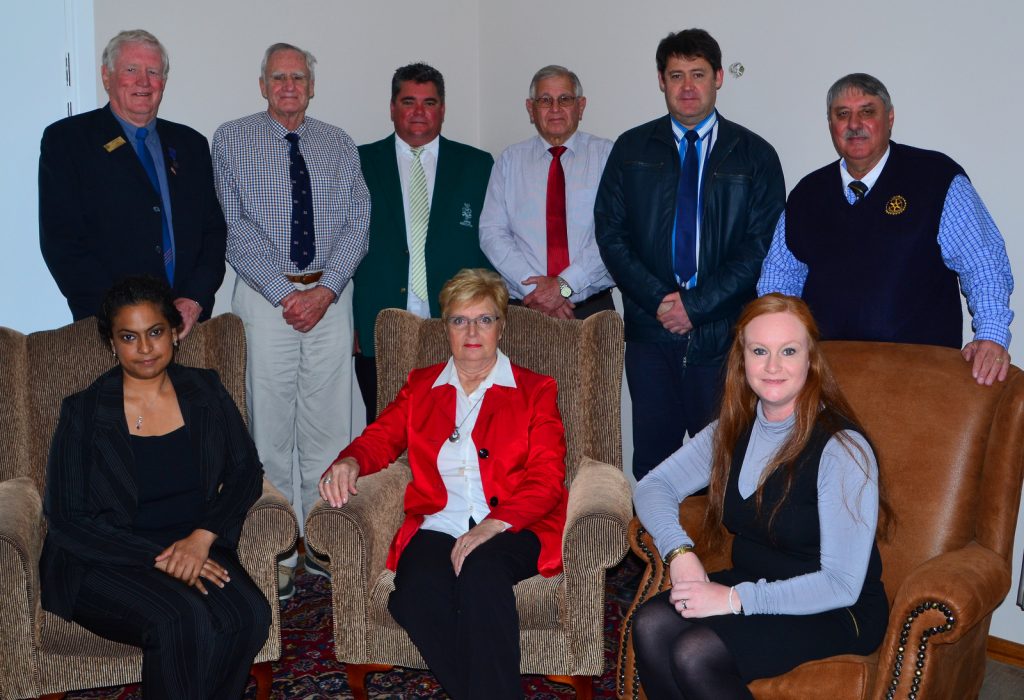 Die Ontwikkeling-Trusteeraad van Die Rotariër Leefstyl Oord
v.l.n.r: Agter: Jan Gelderblom (Voorsitter van Huiseienaarsvereniging), Ian Hamilton (Argitek/Rotariër), Pierre Le Roux (Trusteeraadslid HEV), Andries Potgieter (Rotariër/Ondervoorsitter Trusteeraad), De Villiers Neethling (Projek Bestuurder/Bourekenaar), André Van Greunen (Voorsitter Ontwikkelingsraad/Rotariër/Inisieerder van verskeie Rotariër Aftreeoorde) Voor: Mica Lutchman (Rotariër/Prokureur), Marinette Smith (Bemarker), Yolandi Potgieter (Rotariër/Sekretaris Trusteeraad)
---
In the meantime building operations are continuing unceasingly with a view to completing sick bay facilities to provide extensive sick bay benefits for permanent residents. Provision is also made for people with Alzheimer's disease and for terminally frail patients. The Bay Life Private Hospital for more serious cases is only 6 km away and easy to reach.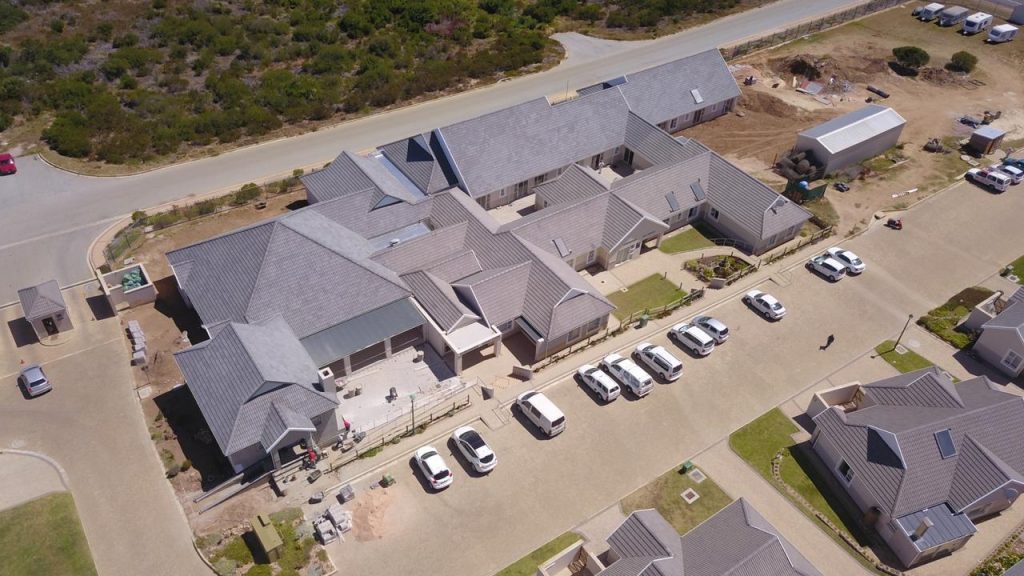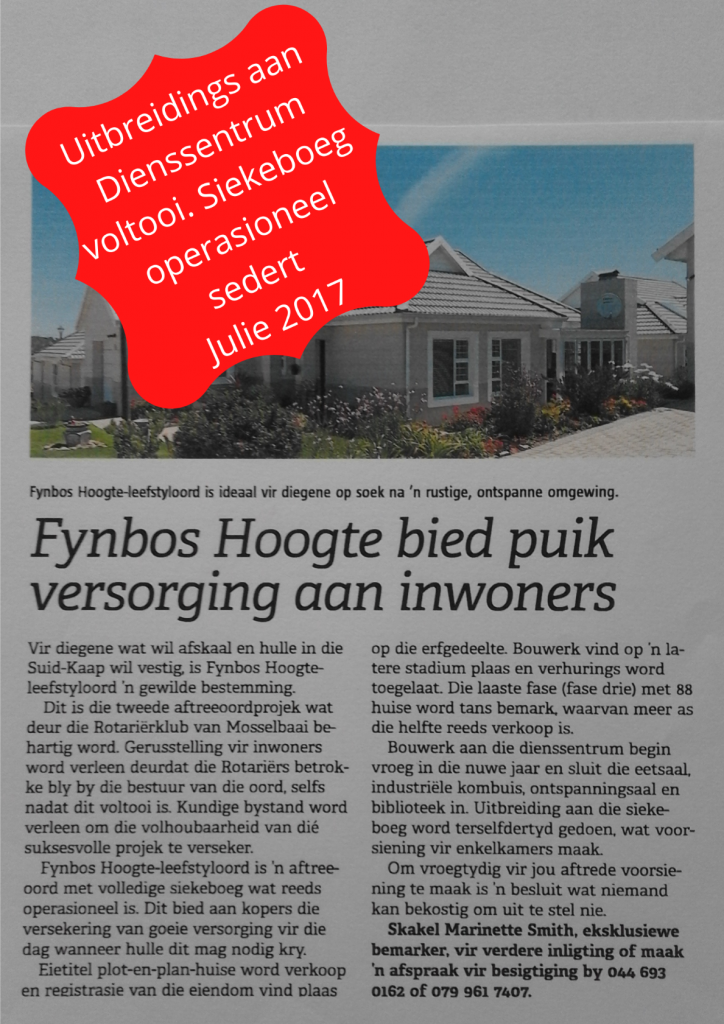 Lockdown Projek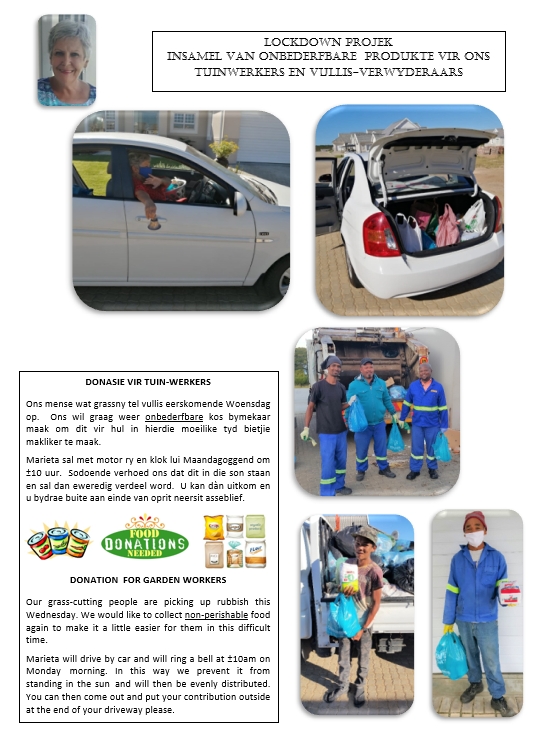 Spekboom Projek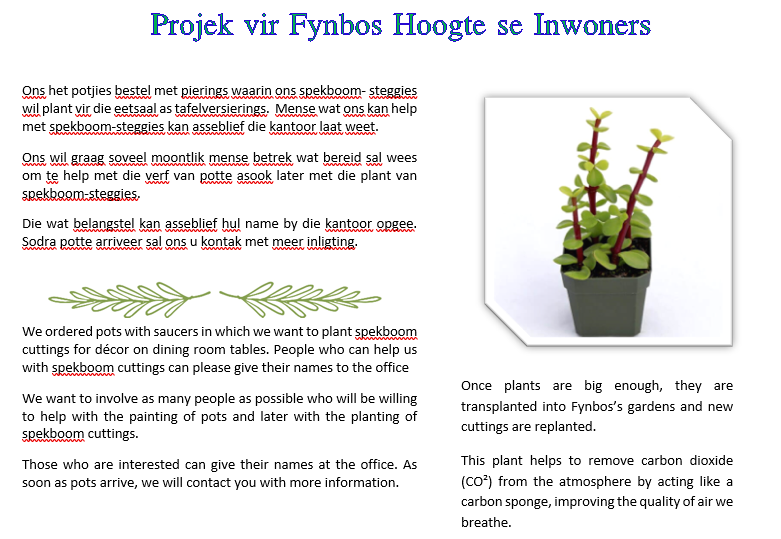 Gevlekte Ooruil!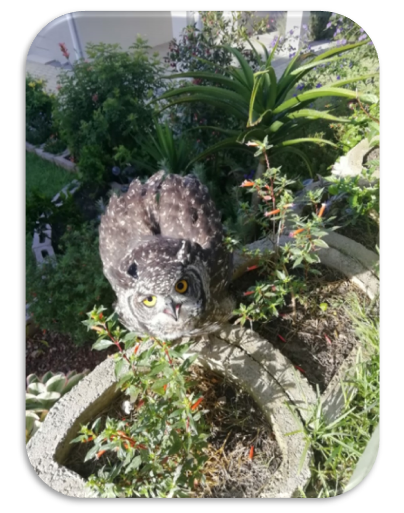 Hierdie Gevlekte Ooruil is gesien in fase 2, helder oordag. Ons is so bevoorreg om te woon in 'n area wat so ryk is aan voëllewe! Dankie aan Minnaar vir die pragtige foto!